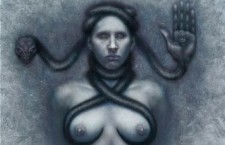 The LHP Consortium is an international entity consisting of practitioners worldwide within the artes, dedicated to facilitating the evolution of humankind by seeking self-knowledge, truth, wisdom and sharing experiences which lead to self-empowerment. This includes collaborating on world projects in writing, art, music and other forms of Esoteric expression. Proclaiming that it is not just and only open to the Left-Hand Path practitioners, but all who that are willing to free their minds to breaking through fears, taboos and restrictions.
The event itself, has an impressive line-up and has gained public notice for its profound yet diverse stance, which shouldn't be of surprise to anyone regarding the unconventional Artes within this day and time. However, what's intriguing about this gathering is the level of collective energy merged in one place presented to the general public. I am convinced that it is about the centre force within its participants at each LHP Consortium event that has attracted those attending, rather than it being a pantheon of 'Who's Who" within the world of the Occult community.
With the convenience of technology, the vast use of internet, social media and the ease to have any grimoire delivered to the comfort of your front door, many have taken for granted the significance behind actual human contact. The irony of this is that to a very large degree, our being within this physical plane is rather dependent upon one another, and total isolation being contradictory to the continuance of our existence as a whole. Therefore, I am confident that those attending will leave the Consortium with a personal achievement to have made the effort, at very least with some residual vibration by which they allow themselves to receive if chosen to do so.
If you're interested in making the International Left Hand Path Consortium this year 8-10th April 2016 and viewing the complete lineup of hosts, presenters, artists and musicians, visit the main site to International Left Hand Path Consortium. Be sure to revisit for updates, interviews and announcements prior to the event!.