An interview with Hagen von Tulien



English  |   

German
Humanity builds its bearers by dividing its own. However, in spirit there is an intelligence that knows the there is only strength in uniting. Hagen von Tulien has connected to such forces allowing him to imprint messages received through the gnosis of his many creations worldwide. As some message should not be left without the reference of its origins I have documented this original interview from Hagen's native tongue in German, here: http://www.monamagick.com/media/die-gnostischen-kreationen-des-hagen-von-tulien/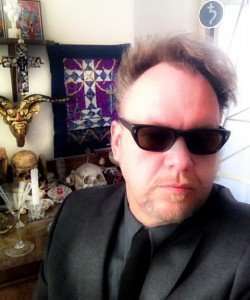 Hagen von Tulien is a German artist and occultist working in a variety of media including pen and ink, paper cut, collage and digital formats.
With more than thirty years of intense magical theory and practice, he has specialized in creating art as an expression and manifestation of magical states of awareness and its use as an esoteric tool.
Hagen was forever following his spiritual and occult vocation. This resulted in his interest and engagement in various esoteric and hermetic traditions.
He is currently a Master-Initiate of the Fraternitas Saturni (F.S.) and an empowered adept of the Société Voudon Gnostique (S.V.G.), focused on deeply researching the Saturnian and Voudon Gnosis.
La Société Voudon Gnostique is a selective group of initiates and artists dedicated to manifesting the more powerful, inner revelations and transmissions of the Gods of Esoteric Voudon, as well as to push evolution and research of Voudon Gnosis and sorcery freely beyond all frontiers of orthodoxy.
As a Gnostic Bishop of the Ecclesia Gnostica Spiritualis (ordained by Michael Bertiaux), Hagen von Tulien is dedicated to manifesting the supreme and divine Gnosis Aeterna within himself while assisting others on their own path to kosmic freedom and liberation.
---
Interview prelude with Hagen von Tulien
What inspires you to create within the technique we've all come to know you by? Do you attach a story behind each one, as I'm sure there's some source of mediumship if not the gnosis received behind what you create?
I have always held a special fondness for the many possibilities for expression through the creation of graphic arts. Personally, I find a very special appeal in portraying a subject using only clearly defined lines and formulation. I mostly portray these subjects entirely in the strong contrast of rich black and white colours, however I frequently combine one additional color such as red. I am also very fascinated by the techniques of collage and paper-cut arts. The creation of silhouette cutouts is a wonderful way for me to combine these favorite techniques.

Nearly all of my artistic creations reflect my very personal approach and experiences dealing with the portrayed subject-matter. I open doorways within my inner self to receive the visions of my creations. The finished works, in turn, serve as gateways which allow access to the wisdom and knowledge of the forces contained therein.
Not only can one engage in pure contemplation with my works, they can (and should) also actively make magical contact with these forces.
When someone commissions you for work, how best do you prefer working; to channel into what you feel could best convey what they want to portray, or to manifest their descriptive request?
The best way for me is actually a combination of these two approaches. The client expresses some initial ideas and keywords that he has in mind, while I still retain enough freedom to implement my own visions on the subject. Fortunately, this is the exact procedure for almost all commissioned artwork.
With the Gnosis of the Saturnian Continuum and of Esoteric Voudon being what seems to be the underlining centre of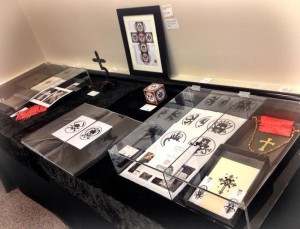 your work, are there other paths have you ventured to include to influence what you do?
Yes, naturally I have always been heavily involved with various magic and occult traditions. The majority of my studies has been along the paths of the Western magickal systems, from which the most important elements emerge for my own personal praxis.
The life and work of Aleister Crowley has always held fascination for me, considering that I have myself also been involved with the systems of the Golden Dawn and the OTO.
A far greater influence on me however, has been the works of Austin Osman Spare. His magick and art still provides me today with an inexhaustible source of inspiration.
Likewise, I have also studied the systems and paths of the most important traditions of the Far East. The tantric teachings and practices of the Nath and Kaula magicians, as they are taught through the works of Sri Dadaji Mahendranath, have provided special influence for me.
The ideas and approaches of Chaos Magic have also always been of great importance to my studies. During the nineties the opportunity arose for me to head the German section of The Magical Pact of the Illuminates of Thanateros.
You've done work for numerous practitioners, authors and publishers, are there areas you'd like to be more involved in such as showcasing your work beyond the current arena where most know your work from?
Yes, I would like in the future to participate in more exhibitions, and also arrange some of my own exhibitions. Developments in this direction are at the moment presently available, and of course I would also welcome more exhibition offers.
Everyone knows artist have what they call the "Masterpiece" – which is yours? Is this piece a work in progress or am I really asking an unfair question?
All my previous works up till now are in their own way special "masterpieces". At this time I have no particular work to emphasize. But perhaps I have simply not yet created "The Masterpiece" …;-)
We shall see what the future will bring.
---
Credits and Links:
(Many thanks to Dawn von Nagy for the translation of my German answers into English)
http://www.behance.net/Hagen_von_Tulien
http://www.voudongnosis.org/
https://www.facebook.com/hagen.von.tulien
Publications:
Illustrations for 'Voudon Gnosis' by David Beth (2nd revised and expanded edition by Fulgur Ltd. 2010).
Illustrations for 'Shekinah 9: Schriftenreihe für Schamanismus – Okkultismus – Parapsychologie – Magie', (Edition Roter Drache, 2010, Rudolstadt, Germany)
Illustrations for 'Shekinah 10: Schriftenreihe für Schamanismus – Okkultismus – Parapsychologie – Magie', (Edition Roter Drache, 2011, Rudolstadt, Germany)
Cover-Art for 'NecroYoga – Die Physik der Finsternis', by W.H. Müller (Edition Roter Drache, 2011, Rudolstadt, Germany)
Cultus Ghuédhé – Liber C-G, by Hagen von Tulien
(privately published, 2013, Berlin)
Illustrations for AST MA ION – EOS TAR NIXET, by Edgar Kerval
(Editorial Ophiolatreia, 2014, Bogotá, Colombia)
Artwork for 'QLIPHOTH Journal' Opus IV (2014)
Over the years: Diverse self-published works of art (limited editions of prints, art-sets, originals, …) and commission work.