An interview with Edgar Kerval
Author, artist, musician and practitioner from Colombia dedicated on deconstructing different magickal vortices through deep states of consciousness and gnosis.
Those of minimum intuitive or empathic strengths will immediately classify others by first impression of either being approachable, aggressive, docile, dangerous and so on based mainly on appearance. However, those that do exercise their inapt ability to "see" within will always sense the power within another.
Meet Edgar Kerval. Point-Blank – Connects to Qlipothic forces, exercise of invocations, conjurations, sexual libations, gnosis of automatic writings, paintings from vision, and music of Kaos, is not what many would assume of Edgar, but behind the veil when brought forth is a duality of profound knowledge and talent within Mr. Kerval.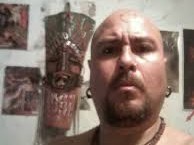 Edgar Kerval, from Colombia, South America is a musician, dedicated practitioner, writer and artist focused on deconstructing different magickal vortices through deep states of consciousness and gnosis, which are reflected in his ritual project such as EMME YA, in which he positions atavism and chthonic energies to create vast soundscapes and ritual vaporous atmospheres.
Edgar has also worked on other projects such as THE RED PATH, THE RED ANGLE, NOX 210, ARCHAIC: SONS OV SIRIUS, LUX ASTRALIS, TOTEM, to name a few. Mr. Kerval is well respected for his talents and is known within the esoteric community for the depth that he contributes through the many works he produces and collaborates amongst his peers.
"Through the Seas of Death We emerge, as arcane seals Now Broken, A Call to Death Gnosis, A Call to Hidden Mysteries Always Veiled Human Consciousness" – Edgar Kerval, Sabbatica, Nephilim Press
As an author, Edgar Kerval has published his book via Siniestra under the mask of the red gods- through Aeon Sophia Press. In which he recorded his experiences with Qliphotic magick and energies from African and Brazilian sorcery which he called "The Red Gods".
He also work in publications such as Qliphoth Journal and Sabbatica, published by Nephilim Press.
---
View the interview with Edgar here: https://www.youtube.com/edit?o=U&video_id=Xw3SBrUl3e0
To receive a notification when the interview for Edgar Kerval on his works will air or for the updates on upcoming interviews, newsletters and other announcements, please subscribe:

---
Interview prelude with Edgar Kerval on his works
Hi Edgar, it's more than pleasure to be able to interview someone embedded into the artes in so many directions from you as a practitioner, writer, artist AND musician! Much of your work can be referred as an arcane gnosis evoking Sacred and Primal knowledge, will you please elaborate on this further?
Greetings Mona and thanx for the interview. Mostly of my own explorations on the path of primal sorcery opened to me so deep channels of perception and inner illumination which are reflected though  my work in visuals,writings and  audial sigils. The process into arcane gnosis took me years of experiencing with spirits, under these explorations I found an hybrid type of spirits which were called the Red Gods. They offered me the needed psychic and primal knowledge to explore and to transform in this plane via music,art and writings. My work is an inner expression of my humble spiritual path chosen to carve, to mold and to experience until leaving this existential path and continue with the exploration in astral labyrinths in which inhabit the Red Gods.
I sense a lot of power within the work that you produce Edgar, and I know you've collaborated with quite a few influential occultist of different paths. This doesn't surprise me as you draw Qliphotic magick and energies from African and Brazilian sources, could one assume that it's about the undefined forces you lean towards or are there specific deities for instance you would like to make known to the public that you are dedicated to?
The Red Gods is the result of experiments in the fields of sorcery and transformative process under the influx of sacred plants, psychotropic  drugs and ritual sex. The Methods of learning, experienced and results with such spirits or gods, are in part due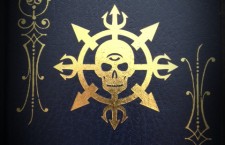 to enough efforts in the fields of divers technics and the influx of suggestive manifestations which enter to my life as a transformative process in a mysterious but effective way. And my main interest is to offer you the possibility to explore more such sinister path of the Red Gods and its mysterious rituals, and encourage you to enter its astral temples and feel the vacuity of self, the connections with such marvelous spectral energies, always coming and waiting behind each mantra, behind each shadow and behind each candle burning and a drop of blood or drops of sexual libations falling into its sacred diagrams.
I know you've collaborated with quite a few influential occultist. Who then were some of your mentors that assisted in the beginning and even today?
Well, mostly of my work is highly inspired by the works of Kenneth Grant, Michael Bertiaux, Aleister Crowley, Austin Osman Spare, Andrew Chumbley…so I  just try to develop my own system of magick in which I can experiment with diverse elements. To work with spirits has been a potent way to transform myself into the vast womb of self-knowledge, always trying to obtain the more possible knowledge of my own alchemical transformation, which is and still will be developing, because this is an eternal process, a sinister process which lead us to the nucleus of the spectral red gods, with all its transcendental mysterious but effective rituals, which in a way transformed my life in a very positive way.
You tend to walk along many paths in sharing gnosis as you also reference a multiple realm of deities and numerous Primal Gods. What would you say to others in crossing these currents that the best form of sacrament in gaining passage would be?
One of the most important elements while someone is focused to explore the primal gods, is to experience, to be one with such primigenian forces, to become a god in this existential plane. This can be though dedication, and discipline, rising the red flame, expanding and moving in unlimited and transformative shapes always showing us its hidden knowledge and offer us its magickal nectars to penetrate its ineffable realms and learn and experience its sacred universe. This Mysterious universe plagued with diverse rituals and enchantments opens a new portal for sorcery for the entrance of such primal forces into  such deep regions of your consciousness.
When someone mentions Edgar Kerval, which of your works would you prefer to define you the most? Your music, or arte in which you practice and write within your books? I'm guessing none of the above can be separated!
Music is an important element in mostly of my Works, due its a powerful  gate to enter trance and inner vacuity, to explore the gnosis of the other side of eden via suggestive sounds, emanating as sigils to self transformation. Under such trance states and gnosis  in deep visions are manifested as paintings,automatic images, writings  comes in a obsessive way all the time. All those elements in  my art just represents a part of the few, humble knowledge I am gathering within years of working.
---
---
History in Reference
MUSIC
EMME YA
Albums
EMME YA

"Het Isht Num Mize" Cdr ep + t shirt (5th annyversary)
Noctivagant records 2013
EMME YA "Cthonian Transmissions(Abysmy Vel Daath)
Cold spring records 2013
EMME YA/NUIT
split cd 2012, EMME YA-"Hau-Hra (Hymns Ov Adoration to Seth-Apep)
NUIT-"Coiled Purple Splendour" Noctivagant recs
EMME YA "Aerum Vel Saeculi"(The Vision And The Voice)
Album 2012, 

Strange Recods
EMME YA"Erotognosis" (The Voices From The Void) Cass Lp 2012
Brave Mysteries
EMME YA "The Conjuration Ov The Red Goddess"
Cd 2011, 

Archon Visions
EMME YA "Atavistic Dreams And Phallic Totems"
Cd 2011, 

Cold Spring Records
EMME YA
"Beyond The Secret Flame(The Aiwass Manifesto)"
Digi File 2010, 

The Mercurius Collective
Split cds
EMME YA/BATHORY LEGION
split cd 2011, 

Sombre Sonics
EMME YA/POSTHUMAN TANTRA "Vortex Ov The Primal Cell"
split cd 2011, 

Sabbathid Recs
EMME YA/LUNA DOPA "Apotheosis Psychoerotica"
split cd 2011, 

Nihil Art Recs
Compilations
V/A Thee New Ritual Movement vol. 1
Sombre soniks 2013
V/A Thee Babblogues
Sombre soniks 2013
V/A Saur Maas
(free Download)
Kalpamantra
V/A Dark Ambient Vol I
(Free Download)
Sombre Soniks
V/A Septem,The Seven Luminaries
(Double cd )
Quartier 23
V/a From Earth To sirius 2011
(Double cd)
Zoharum Recs
V/A-Thou What Thou Wilt
2010, 

Notariqon
V/A -SilkMilk Vol 4
2010, 

Inspiralinkmultimedia
W/A-Tales from the grotesque and Arabesque Vol II-Edgar Alan Poe tribute
2010, 

Notariqon
V/A- BeyondC: N: O
2010, 

Kalpamantra
V/A – New Aeon Symbols VI "Sex Magick"
Digipack 2009
Quartier23
V/A – New Aeon Symbols V "The Pentagram"
Digipack 2009, 

Quartier23 NOX 210 Releases
NOX 210 "Zos Vel Thanatos" Debut
Album 2011, Archon Visions
V/A Saur Maas Compilation
(Free Download)
Kalpamantra
V/A Dark Ambient vol II
(Free Download)
Sombre Soniks
NOX 210/ THE RED ANGLE
"Madness In The Center Ov Kaos"
Cdr 2011, 

Svartgalg
NOX 210
"The Invocation Ov The Heart Girt With A Serpent"
Free Ep 2011, 

Hunter Net label
NOX 210/Gyakkusatsu
"Khem"
"Split cd 2011, 

Marbre Negre
NOX 210/Choronzon
"Tactical Magick Technology"Other Projects
ASTRAL LUX
"Opuscula Infernali"
Cd 2013, 

project from Marco Grosso Ouroboros/Edgar Kerval
BLACK SEIDR
"Invocaciones de poder de la lama negra"
cd 2013, project from Ljossal Lodursson /Edgar Kerval
:ARCHAIC:
"Archaic"
cd 2013, project from Phil Brito /Edgar Kerval
THE RED ANGLE
cd 2011, "The manifestation of the Black Flame"
THE RED PATH/BLACK SEAS OF INFINITY
"Ophitic Oracles Bespoke Isheth Zenunim"
Split Cassette Album
ESSAYS & BOOKS
Via Siniestra  ( first book)
(under the masks of the Red Gods)
Aeon Sophia press
*The Sacrament Ov The Red Serpent
(part I) & (Part II) (Automatic Writing)
Qliphoth Journal
"The Awakening" (Atavistic Path) opus I
Aeon Sophia press
*Sacred Elixirs for The Red Gods
Qliphoth journal
"The Awakening" (Atavistic Path) opus I
Aeon Sophia press
*Formula Ov The Red Ecstasy-Trance and Erotocomatose Rite
(Automatic Writing)
Qliphoth journal
"Flesh Totems and Masked Bbones" opus II
Aeon Sophia press
*The Oracle Of The Void
(Amprodias Exploration in the 11th Tunnel)
Qliphoth journal opus III
"The Cycles Ov Primal Kaos"
Nephilim press
*The Crown Of Black Thorns: Explorations And Invocations Of Our Holy Mother Death Sabbatica -grimoire I- "The seas of death and the arcane of death bringer"
Nephilim press
*Whispers From the void (explorations Of Baratchial through the 12th tunnel)"Visions Of The Nightside"
Black tower Publishings
*Liber O-11 Oracle Ov The Primal Void Formula of kaos = 0 -11 = The Gate Of Primal kaos -pillars "the golden Eitr
Vol I -issue II
Anathema
COMING SOON!!