VERIFIED ENDORSEMENTS FROM LINKEDIN
For those who have provided quick professional endorsements of me on the following topics: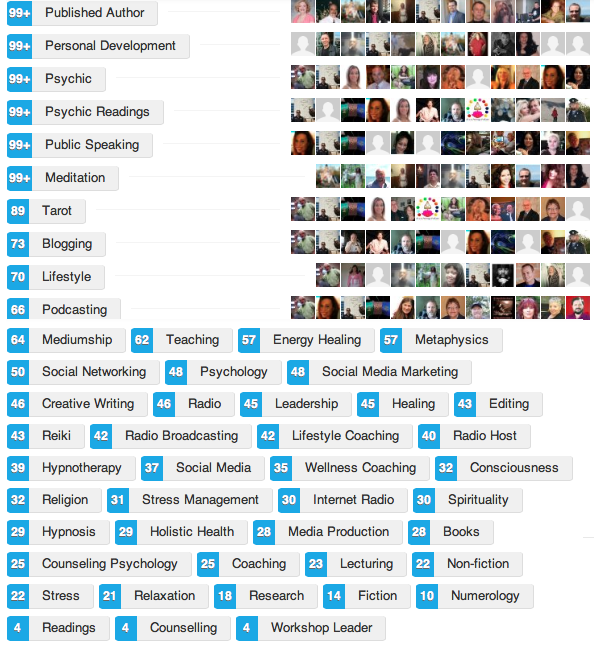 http://www.Linkedin.com/in/MonaMagick
MORE PROFESSIONAL LINKEDIN ENDORSEMENT CAPTIONS
"I am recommending Mona Magick because she's one of the very few psychics that can combine life, business, science and spirituality all together in making sense. I was at one of Mona Magick's lectures and have seen her in two different countries and by far Mona actually always brings in crowds literally by the hundreds and online I've seen by the thousands worldwide. Her presence is very captivating as she's very knowledgeable, engaging not to mention charming and beautiful. As a psychic, Mona is extremely accurate and quite different than most which is why she's a mentor and loved by so many. Many psychics do it well, but not many give to their own peers and the community like I've seen Mona Magick do over and over again. Mona has helped me to understand "occult" like none other." April 6, 2012
Top qualities: Personable, Expert, High Integrity
1st Brigitte Baptiste
______________________________________________
"If you haven't checked out Mona yet you are missing out. Listen to her radio/podcast on iTunes and get a different perspective on many topics." November 22, 2018
1st Rob Alex, Inward Oasis – Co-Owner, Inward Oasis
worked with Mona at Mona Magick
______________________________________________
"Mona Magick is very easy to talk to, understands concepts that are progressive in nature and handles bamboozles not of her making with aplomb and grace. I find her a pleasure to interact with and enjoy our conversations immensely. I would highly recommend Mona in any hosting or media-related venture and also as a very pleasant and engaging personality in general.
Sincerely,
Heather Lagan
Author: Chaldean Numerology: How Your Name and Birthday Reveals Your True Nature & Life Path" July 6, 2014
Top qualities: Personable, High Integrity, Creative
1st Heather Lagan,
hired Mona as a blogtalkradio Host in 2009, and hired Mona more than once
______________________________________________
"Mona , have a very warm personal approach in working with you . I must include she is one of the most professionally , and knowledgeable person to work with. I always look forward with with working with Mona .
William Brabam" July 6, 2011
1st William Brabam, Astrologer, Nunkey
was with another company when working with Mona at Mona Magick – Mystick Journey
______________________________________________
"Mona Magick is a talented, charismatic and well educated professional. She is a wonderful radio show host and a strong, capable and sympathetic practitioner of the Metaphysics. I highly recommend Mona as an accomplished and sophisticated person to do business with." July 4, 2011
1st Brenda Black, Certified Astrologer, Eclipse Astrology

May 2014
VERIFIED ENDORSEMENTS FROM BRANCHOUT
16 BranchOut endorsements

"Highly spiritual and intelligent" From: Mel JFleming II on May 26, 2012
"Mona is someone you can always trust. Great values, gets the job done, highly recommended!" From:
Wagih Samweil
on May 26, 2012

"Mona is incredibly smart. A true problem solver and critical thinker. If you want a modern day Einstein, look no further. "From: Al Garretson on Apr 6, 2012

"Mona is dependable, honest, hard working, and focused on results. An excellent addition to any team."From: Paul Meegan on Jan 1, 2012
"If I were forming a team, Mona would be at the top of my list of people I would want to hire." From:
Wagih Samweil
on Dec 25, 2011
"Mona is one of the best readers I have ever gone to & has given the most insightful lectures i have attended on the occult and spirituality!"From:
Brigitte Baptiste
on Oct 22, 2011

"Mona always has a positive attitude. Brings a refreshing energy to the world of spirituality."From: Kathleen Tucci on Jul 5, 2011

"Mona is a conduit for clarity from the Super Consciousness! Her counsel is Spiritual, but based in practical reality."From: Al Anderson on Jul 2, 2011

"Mona Magick is a wonderful resource of spiritual knowledge and enlightenment. This group, educates, and opens the doors of true wisdom" From: Mel JFleming II on Jun 29, 2011

"Mona has a great energy and is great at what she does! :)" From: Ann Johnston on Jun 28, 2011

"It is such a pleasure Mona to connect and support each other and our dreams … Warm Blessings to you :)" From: Moon Willow on Jun 28, 2011

"Mona is an honest and loyal person." From: Peter Anzalone on Jun 28, 2011

"Mona Magic is gifted." From: John W Crawford on Jun 28, 2011

"good readings from Mona magick!" From: Johnnie Burton on Jun 28, 2011

"Mona has thoroughly impressed me time and again."From: Rose Garceau on Jun 19, 2011
worked directly with Mona at Mona Magick – Mystick Journey