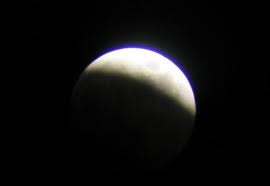 Just remember that this Lunar Eclipse is about relationships and polarities. The entire eclipse will last a little over 5 1/2 hours. With Gemini-Sagittarius axis involved, this Lunar Eclipse brings us to look at our needs, lacks, and wants in our lives concerning the balance between Gemini-ruled and Sagittarius ruled areas of life. The Gemini-Sagittarius polarity is a mental axis, where Gemini represents the "lower mind" and Sagittarius represents the "higher mind". The Gemini Sun encourages us to think logically, while the Sagittarius Moon persuades us to be more intuitive.
How does this affect spell casting and the planetary influences on spell casting and ritual? For one, any spell performed this night needs to be done carefully as you will be invoking stronger influences. If you miss out on riding the aspects of this Eclipse
Europe will miss the first part of the show because it will occur before the moon rises. Eastern Asia and eastern Australia won't catch the final stages, which will happen after the moon sets. Portions of South America will be able see the moon entirely shrouded.
Lunar Eclipse's for the remaining part of the year:
Dec 10, 2011 @ 2:32:56 pm Gem 18°11
Solar Eclipse's for the remaining part of the year:
Nov 25, 2011 @ 6:21:24 am Sag 2°37´
The next total lunar eclipse will fall on 10th Dec. with best viewing from Asia and Australia. The moon will be completely blotted out for 51 minutes. Only parts of the U.S. including Hawaii and the Pacific Northwest will catch a glimpse. The rest of the continental U.S. will have to wait until April 15, 2014 to witness a total lunar eclipse.♦