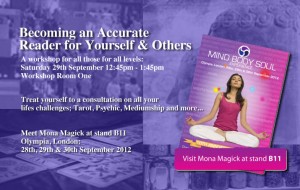 There are countless people who want to know what future lies before them to have that additional edge to have the advantage over a certain outcome. For centuries many have sought mediums, psychics and those will even only a slight ability to help them with some insight of tomorrow.  The great news is that everyone has the potential to either become a good and accurate Reader and to even better their skills.
During this taster workshop no matter what level your gift is as a seer, Mona Magick will share some proven techniques to hone into your inner conscious to ignite the potential that you'll be able to strengthen in no time. For those who have been reading for quite some time, you may share the life paths of many experienced readers in Reading for yourself with accuracy. Skeptical? Try the exercises shared during this workshop and see how fast you become a believer that you too can become a Reader and a good one at that!
The workshop starts on Saturday 29th October 12:45pm – 1:45pm and is inclusive of your ticket entrance. Make sure you visit booth B11 to receive a reading from Mona Magick for an accurate reading on all of your life's challenges no matter what they are.
Mind Body Soul Exhibition
Olympia, Kensington
London
W14 8UX
Exhibition Opens:
Friday 28th September 2012
Saturday 29th September 2012
Sunday 30th September 2012
Opening Times:
Friday 11am – 6pm
Saturday 10am – 6pm
Sunday 10am – 5pm
THIS WAS AN EXCELLENT EVENT, HOWEVER IS NOW OVER. JOIN ME AGAIN – SAME PLACE IN NOVEMBER 2013